Villa Layout
Entry to Taman Ahimsa is via an intriguing two-storey bamboo-lined structure in the shape of a boat, the lower floor of which houses two open-plan living areas, a state-of-the-art gourmet kitchen and a dining area. Upstairs is the TV room and two bedrooms connected by a wooden bridge which provide ideal accommodation for families.
Stone pathways meander through the lush gardens, past the many lily ponds, connecting the remaining five room pavilions, each of which has an ensuite bathroom and private balcony.  Adjacent to the beach is the idyllic pool area, boasting an organically shaped 18 metre pool and thatched poolside pavilion. A series of stone steps lead onto the beach which, apart from the occasional fisherman or village ceremony, is all yours!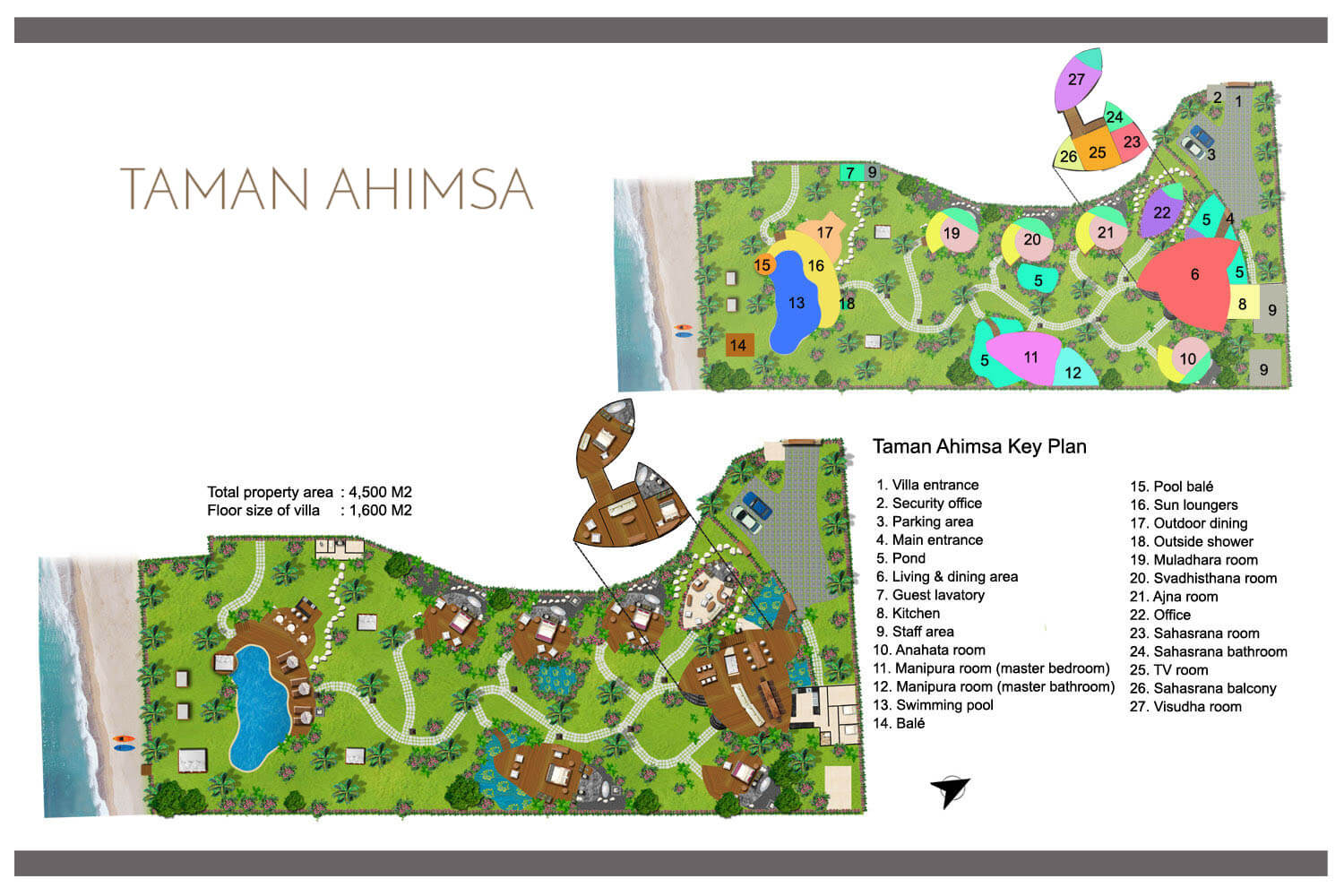 Download in high resolution
Living Areas
Living rooms
Taman Ahimsa has two living areas where guests can choose to relax completely alfresco or sheltered by an alang-alang thatch roof. Decorated with recycled wood furniture and a sumptuous array of Indonesian batik fabrics, these spaces are personalised with beautiful antiques and musical instruments spread tastefully throughout.
Antique daybeds make the upper living area a wonderful space to congregate with friends. Timber stairs lead to the lower level where two long built-in couches and a magnificent antique table, created from an old wooden boat, are framed by a frangipani tree growing through the floor, effortlessly melding nature and design.
Guests feel immediately at one with the environment as they relax in the enormous open living spaces, with the bamboo lined walls, timber floor and sweeping views of the bountiful garden straight through to the sea.
Dining and kitchen
The dining area features a rustic teak dining table that seats 16. During daylight hours diners will enjoy views over the lush tropical garden as they are refreshed by the ruffling sea breezes. At night the room, lit by a pair of exquisitely designed copper lanterns, takes on a magical glow as diners are serenaded by the gentle croaking of the garden's resident frogs.
The enormous state-of-the-art gourmet kitchen is located directly behind the dining area and guests can marvel at the delicious creations being whipped up by the chefs through antique hand-carved window frames.
TV room
The spacious TV room lies between the Sahasrana bedroom and its terrace. It has a recycled ironwood floor and is furnished with oversized rattan sofas scattered with an abundance of cushions decorated with ornate batik fabrics. The walls are adorned with a marvelous array of Balinese shadow puppets, or wayang kulit, which traditionally provide much loved entertainment across the island of Bali. The room is equipped with a 32-inch TV and a DVD player and a selection of DVDs available for guests.

Swimming pool, balés and outdoor dining
The organically shaped, ocean-front swimming pool is lined with green Java stone lending its water a wonderful translucent quality. The surrounding ironwood deck, furnished with oversized rattan sunbeds and umbrellas, is the ideal place to relax after a dip or watch the kids enjoy themselves in the pool.
The thatched poolside pavilion with its outdoor dining for 16 is perfect for leisurely breakfasts, an alfresco lunch, afternoon tea and sunset drinks. A barbecue can be set up down here too, either under the shade of a coconut palm or close to the waterfront to take full advantage of Bali's famously spectacular sunsets. The deck area also doubles as a yoga or martial arts studio.
Nestled in the garden and overlooking the ocean, charming thatched balés provide shady escapes for reading, meditation, private reflection or just somewhere to lay your head and unwind. Let the staff arrange for a traditional Balinese masseur to ease away your tensions while you are lulled by the sound of the rolling waves.

Bedrooms
Each of the seven colour-themed bedrooms at Taman Ahimsa is named after a Hindu chakra and boasts a rich array of ornate artisanal fabrics, a hand-selected crystal and a unique gamelan instrument symbolizing charm and balance.
All bedrooms are air-conditioned and furnished with a canopied king size bed, a dressing area with fitted wardrobes, a writing desk, a safe deposit box and a private terrace. Ensuite bathrooms provide a delightful mixture of indoor and outdoor areas with huge hollowed out river-rock tubs, river-rock basins, rain showers, slate paved floors and bamboo ceilings.

The two upstairs bedrooms, Sahasrana and Vissudha, lie adjacent to the TV room and are linked by a bamboo bridge to make an ideal family retreat. Both of these rooms have bamboo balconies at the front with views taking in coconut palms and beyond to the ocean giving them a Robinson Crusoe feel.
The other five bedrooms are privately laid out within Taman Ahimsa's beautiful beachside gardens, including the pride of the fleet, master bedroom Manipura, with its high vaulted ceilings and luxuriously draped 2.3-metre-wide bed.